Welcome to my Page,
I'm here 24/7/365

"Take care to get what you like, or you will be forced to like what you get".
This quotation by George Bernard Shaw is just one of several quotations that I love.

My name is Torben Laurberg, I'm Danish, and I live in Denmark, which is a Constitutional Monarchy in Scandinavia. Denmark's population up to the present time is 5 million strong. Generally speaking citizens of Denmark are referred to as "Danes" and our mother tongue is recognized world-wide as "Danish". As Mahatma Gandhi my birthday is on October the 2nd. Listed below are a few Quick Links pertaining to my background, and some of my likes and dislikes:

My main educations are:

As the son of a Danish private registrated land surveyor, I have accumulated many years of experience in this particular field. After obtaining my degree in Land Surveying, I have worked exclusively with my training and expertise, and land surveying has proved to be an exciting and innovative career choice. I have had jobs for my father's firm and for his competing colleagues in the region. I grew up with it.

As a Chartered Surveyor M.Sc. I've had professional tasks dealing with:

educational background is available.

In my spare time I'm a highly committed person engaged in quite a few projects.

I love making web pages for good purposes, friends, and family. One of my main interests is being the webmaster as well as the editor for the Danish Surf Lifeguards

My volunteer and humanitarian commitment for Beach Lifeguards in Denmark, Scandinavia, has for several years made up a larger part of my spare time. Partly as an active Surf Lifeguard and partly as the treasurer of the executive committee.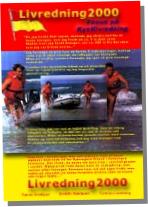 ISBN 87-983565-7-7 :
The Book. Together with the well-known Danish swimming author H. C. Arnth Nielsen I wrote, edited, and published a Danish (334 pg, A4 size) library book about Surf Lifesaving. We started our work in the year 1998 and we published the 1st edition of the book in 2001. A 2nd edition of the book was published in July 2003 (347 pg, A4 size). A statement in Danish language from the purchasing consultant for libraries is available here

As a former competition swimmer, working out, running, and doing laps around the pool are an integral part of my every day routine. If time and energy permits, some of these activities I eagerly perform twice a day. It has been my experience that a healthy physique promotes a healthy, productive attitude in all areas of my life, and helps maintain a level of calmness in difficult situations of any sort.
Another activity I dearly enjoy, and it fits my personality splendidly, is working as a Swimming Instructor. I gladly pass on my aquatic expertise to children and grown-ups alike, and take great pride in watching my pupils excel with safe and well-practised swimming techniques. It is quite a rewarding task.
Currently my taste in music leans mostly towards the sultry notes of a Classic Blues melody, but if I'm feeling the mood for a bit of old-fashioned, 'pretend drummer action', accompanied with a cacophony of finger snapping and toe tapping, I'll fill my apartment with the livelier strains of a snappy Brazilian Beat and hope the neighbours are out of town! But actually I listen to any and all kinds of music. Here is a selection, in my modest opinion, of the best of the best:
My favourite destination? Well, need I say it's Santa Cruz, California ?
Please feel free to read more about My Interests.
I have an open mind and spirit. I am a very kind and giving person, positive and enthusiastic. My glass of water is always half full - never half empty! But I can be straight forward and decisive when the occasion calls for it. Although I am highly commited to my work, in my spare time I like to kick back and enjoy most things life sees fit to throw my way.
Here is a short story proving just how important and eye-opening it is to always ignore negitivity, but rather concentrate instead upon enthusiasm and encouragement.
Please feel free to read about My Education, My Interests, and My Web Design. Please check my My WebCam ; sign My GuestBook ; and drop me a line by using my Message Form. Thankyou.
Yours Sincerely,
Torben Laurberg
--

landinspektřr